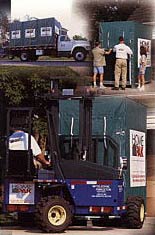 With our exclusive, custom-designed roll-up door, the advantages are built in.
It's the easiest way ever to pack and store your belongings.
Forget about renting a truck or making multiple trips to a storage warehouse. We'll bring a roomy, weatherproof HomePak storage container to you.
You can pack at your convenience. Then when you're finished, we'll pick up your HomePak container and take it to our secure government approved warehouse.
When you need access to your container, just call to make arrangements. Then, you can come to us, or we'll bring your container to you at a local address.
HomePak by Eagle Transfer Co. is the next best thing to having your own storage warehouse.
One container holds approximately an entire room's furnishings.


Easy-access roll-up door is 4 feet wide and 6.5 feet tall.


A single container stores up to 2,000 pounds.


Solid construction keeps contents safe and dry.